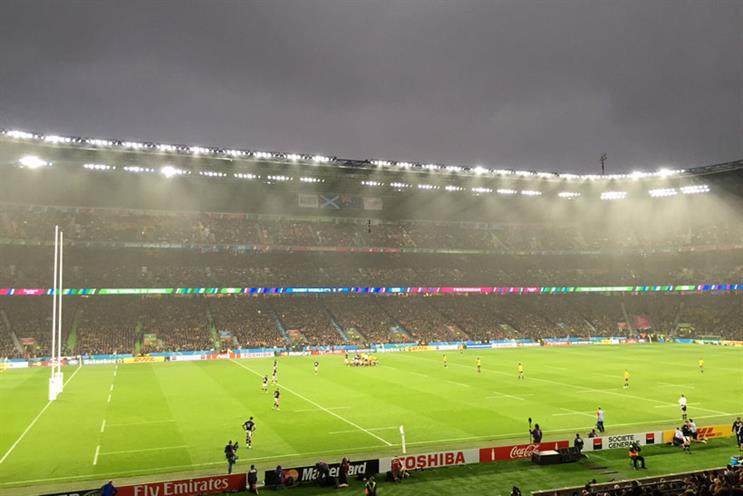 I am emotionally exhausted.
Did I mention that I'm a burn-swimming Scot, my great grandmother was French and have lived in London for over 20 years. The last few weeks have been an emotional rollercoaster for my rugby allegiance.
Despite the investment of 50% of the UK annual marketing budget, there was no mention of Heineken's Rugby World Cup sponsorship on its main UK website
I have bled for the rose, the dusty beret has been crushed and the kilt is now redundant. Sob. I am now in the process of learning the Haka. It's not going well.
I have no nails left and my nerves are still recovering following a weekend of heart-racing action.
Emotions aside, New Zealand were a 'Force of Black' (no doubt Adidas were thrilled) as they demolished France with their record-breaking display of expertly executed rugby fundamentals.
Sunday's matches were incredible. The atmosphere at the ironically nicknamed 'Fortress' was one I'll never forget, along with 'that' decision.
The Home Nations may be very much down and very much out but what a showcase for the Southern Hemisphere and rugby itself as we head towards the final.
As I shuffled up to Twickenham Station with the crowds on Sunday evening, my mind turned to our day out. Me the everyday fan, my son and our match day experience.
Without being needy, I felt a little overlooked and forgotten.
DIffering results
Aside from the wonderful memories, our take-home moments were a dodgy photo in a frame courtesy of Rugby World Cup 2015, a DHL cardboard banner and clapper that was too wide for the seat and subsequently ended up on the floor. And the highlight, some pretty nifty plastic cups from Heineken (that were being collected en masse by fans as they left)
Reviewing their stated intentions on the Rugby World Cup's official sponsor site it's hard to say that sponsors have failed, but the potential and scope of opportunity for brands to enhance the spectator experience is not being realised.
Unlike Land Rover and Gilbert, brands that don't have heritage or a natural fit with the sport, need to dig a little deeper to understand and resonate with 'the rugby fan'.
Heineken has kept it simple. Through their content, Find a Pub app and Coin Toss, I believe they genuinely want to bring me closer to the game and allow me to be part of their conversation, pre, post and during the games.
Although it's slightly bizarre that despite the wonderful content and investment of 50% of the UK annual marketing budget, there was no mention of Heineken's Rugby World Cup sponsorship on its main UK website.
Buried sponsorships
And the brewer is not alone. Many of the worldwide sponsors have buried the World Cup sponsorship on their global websites. Staggering considering the sums involved. I'm sensing that this may be a hospitality buy for some. Or all?
Canon has missed a trick, it is only activating its FanPic for three of the 48 games, which is such a shame not only for Canon but for the fans. I want a 360 degree photo that I can tag and share in exchange for social kudos.
As opposed to the lovely but rather old school RWC plastic branded frame around our heads and an iPhone selfie. Canon has chosen to firmly align itself with professionals and while I'll enjoy looking at the beautiful photos shot on its cameras by Getty photographers, I won't have cause to start my own relationship with Canon to obtain my own memento of the day. An easy win.
Little has also been seen of Fujitsu, who were late additions to the sponsor family, being added in September. There's nothing to be seen of its "human centric innovation in which everyone can innovate with technology that fuels the imagination and inspires creativity".
It's such a shame that the technology brands haven't stepped up to the sponsor table improving the fan experience because the potential is there to inform, educate and inspire in real-time. What more would you want to be known for?
Sponsorship is only an effective way to reach your consumers if you are authentic and involved. Trying to buy your way into a global property is an obvious step for an international brand but if you push the brand into a territory with no natural affinity then you have to work harder to ensure consumers truly believe the partnership that you're building and deliver commercial value.
This is perhaps where, as the sport continues to grow, more consideration needs to be given by World Rugby.
Several sponsors have attributed their alignment to rugby to the shared characteristics between brand or product and the sport.
But what is the sport and the humble fan getting in return?
We're supposed to be past the days of the logo slap.