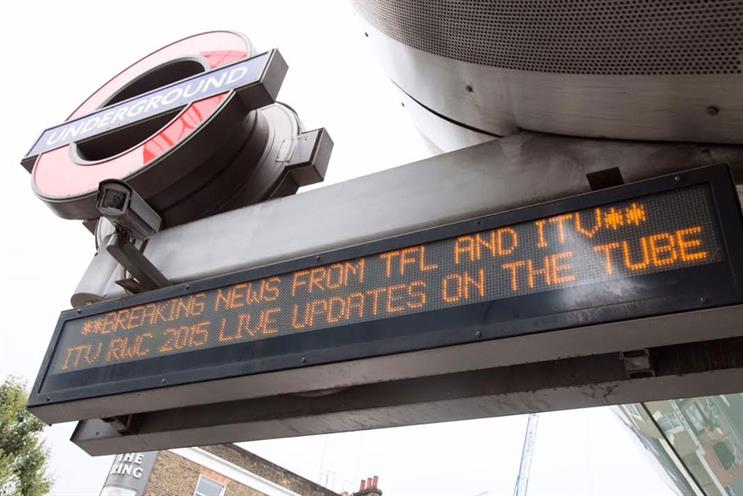 Information will be streamed at entrances and platforms at 180 stations about the World Cup, which begins on Friday, 18 September at Twickenham, where England face Fiji.
The service was unveiled at Southwark Station today by Maggie Alphonsi MBE, a member of the England team that won the Women's Rugby World Cup last year.
Alphonsi said: "The match scheduling means that there will be plenty of commuters travelling on the London Underground at crucial moments throughout the Tournament, who might otherwise miss out on the action.
"This is a brilliant way to keep fans up to date during the big games, when they are not able to watch them live on ITV or ITV Player."
Maggie Alphonsi, who helped win the Women's World Cup for England last year, unveils the scheme at Southwark Station
The partnership will make £160,000 for TfL and is part of its wider plans to generate £3.4 billion in revenue that does not come in from ticket fares by 2020/21.
ITV will provide live and exclusive coverage of every single match throughout the six weeks of the tournament, from the opening fixture on 18 September, through to the final on 31 October.
Niall Sloane, ITV's director of sport, said: "This partnership with TfL cements ITV's commitment to rugby, delivering content to fans no matter where they are.
"Bringing Rugby World Cup scores and news to London Underground's passenger information services provides us with a unique platform to deliver our fan-centric approach to the sport and providing the best possible coverage of the tournament."