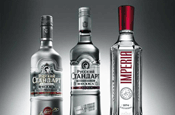 The agency beat un-named agencies from France, Russia and the US to win the business, and will now create a campaign that will include TV, cinema and print work.

The work will promote the entire portfolio of Standard Vodka brands, including Russian Standard Original, Russian Standard Gold and Russian Standard Platinum.

The first campaign, which is planned to appear before the end of the year, will run in the US and across Europe, including Russia and the UK.

Russian Standard Vodka is one of the world's fastest-growing vodka brands and is currently Russia's number-one premium vodka.

Preston Mendenhall, the director of communications for the brand, said: "My Agency has delivered the big advertising idea which we have been looking for, and we are thrilled to bring the energy and excitement of My Agency's creative to our consumers."

Nick Wright, the My Agency managing partner, said: "This is an awesome win for us.

"We are proud to have presented a campaign that is as ambitious as the brand itself and delighted to have beaten an A list of other agencies."