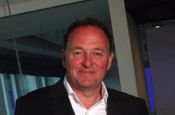 Based in London and reporting into David Kenny, the chairman of Digitas, the focus of his brief will be to oversee the expansion of the digital agency network by launching a string of offices in new markets around the globe. Initially the emphasis will be placed on the major markets in Asia and South America.
The global expansion plans will include a combination of new launches, acquisitions and partnerships and Rutherford anticipates that the network will have a "very strong global presence within the next two years".
He said: "It is now the time to create a global network. It's a huge task that hasn't been done for about 40 years. Big multinational clients need stability in the expanding digital arena."
Kenny added: "Brands need capabilities to manage digital communications in every market they serve and with Alan's expertise we can drive our clients' worldwide digital success."
Rutherford, who has been in conversations with Kenny about moving to Digitas Global for almost a year, said: "I had eight fantastic years at Unilever and created a sea-change in the way that they handle their media business.
"Now I feel that the era of digital is here and I have always liked to see myself at the forefront of changes in communication. It's the right time to move on."
Before joining Unilever in 1998 Rutherford worked at Ogilvy & Mather in many different roles, including media director, head of TV buying and European account director on the Sony Playstation and Kodak accounts.
He began his career at Dorland Advertising in 1984.
Digitas was acquired by Publicis Groupe in December 2006 for $1.3 billion. In May 2007, the London office of Modem Media became part of Digitas in a restructure that saw the creation of Publicis Groupe's digital and direct arm