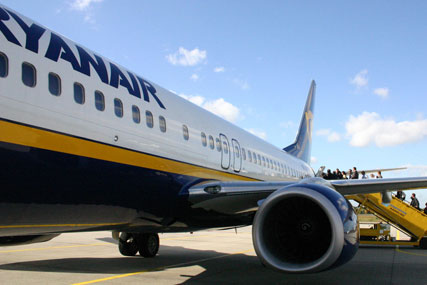 The airline's pre-tax profits leapt 50% from last year's €420.9m, according to International Financial Reporting Standards (IFRS), despite higher oil prices and a deep recession in Europe, O'Leary said.
It achieved a record post-tax profit figure of €502.6m (£404.1m) after an exceptional cost of €57.8m (£46.4m), in what chief executive Michael O'Leary called a "commendable result".
Revenues rose by 19% to a record €3.63bn (£2.9bn) and Ryanair's overall traffic grew by 5% to a total of 76 million passengers.
O'Leary said he expected Ryanair's traffic to grow just over 5% to 79 million passengers over the next year, while predicting the airline's fuel bill would rise by €320m (£257m), with most of the increase "skewed" in the company's first quarter, causing a profit drop for this period.
He added: "We remain concerned about next winter as we have zero-yield visibility, but expect recession, austerity, currency concerns and lower fares at new and growing bases in Hungary, Poland, Provincial UK, and Spain will make it difficult to repeat this year's record results.
"We expect that any increase in fares will only partially offset higher fuel costs, and accordingly we are guiding net profit in 2013 subject to final yield outturn will be lower than 2012 in a range of between €400m to €440m."
O'Leary used Ryanair's annual results announcement to openly knock the UK Government and the airline's competitors.
He said: "Despite a rising number of airline failures and record airline losses, many of Europe's governments continue to treat aviation (and airline passengers) as a cash cow to fund their taxation and/or policy failures."
"The UK and Germany have increased passenger taxes, which has damaged their traffic, tourism and job creation numbers. UK APD [air passenger duty] has caused traffic to decline by 6% since 2007, while the UK Government's "do nothing" policy about runway capacity in the South East is encouraging traffic and tourism to bypass high-cost London airports in favour of expanding airports in Spain, France, and Holland.
"We expect more European failures in 2012, as higher oil prices and recession continues to expose failed airline models, as well as subscale or peripheral carriers."
Follow Loulla-Mae Eleftheriou-Smith at @loullamae_es