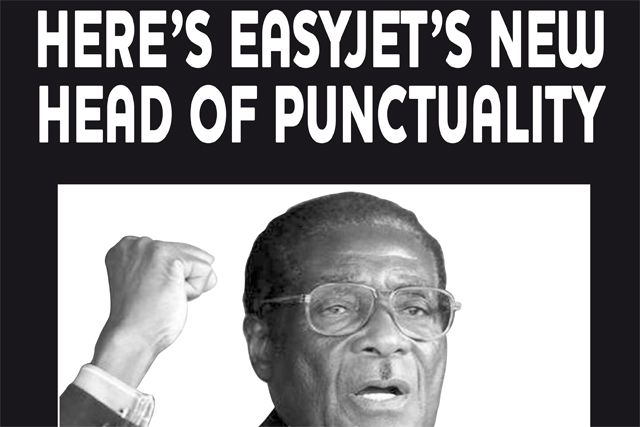 Ryanair's print ad featured a picture of Zimbabwean president Robert Mugabe underneath the headline "Here's easyJet's new head of punctuality".
There were three press cuttings included in the ad, with one headline reading "easyJet in punctuality blow," and the other two stating "less punctual than Air Zimbabwe".
Further text at the bottom of the ad stated "Ryanair – easyJet can't match our prices, or our punctuality either!".
The print ad was made in-house by Ryanair and ran in the Telegraph and Guardian newspapers.
There were 20 complaints from the public objecting to the use of Robert Mugabe's image, claiming it "trivialised" the recent past and political circumstances of Zimbabwe.
One complainant said claiming that easyJet's punctuality could not match Ryanair's service was misleading and unsubstantiated, believing the comparison was based on data from just one airport.
Ryanair said it used Mugabe in reference to recent articles calling easyJet slower than Zimbabwean Airways, because he was the most recognisable Zimbabwean. The company believed the ad was humorous and would not cause serious offence.
The Telegraph said it considered the implications of the ad before they ran it, deciding that it would not cause widespread offence and also stating that it had not received any direct complaints.
The budget airline defended the claim that easyJet was not as punctual as themselves by submitting documents that compared airlines arrival and departure times for UK airports since 2006, highlighting Ryanair and easyJet.
The ASA rejected the complaints, acknowledging that Rynair's use of pictures of Mugabe were "likely to be seen as tasteless by some", but that the context of the ads referred to Air Zimbabwe, not Zimbabwe's political past.
The ASA said "the inclusion of an image of Robert Mugabe as a recognisable Zimbabwean was unlikely to cause offence to most readers", concluding that the ad was "unlikely to cause serious or widespread offence".
The ASA rejected the documents submitted by Ryanair that compared the punctuality of the two airlines as far back as 2006, stating that it was "insufficient to demonstrate that, at the time the ad appeared, easyJet could not match Ryanair for punctuality in all circumstances".
However, it upheld Ryanair's claim that easyJet was not as punctual as the Irish airline, based on the evidence submitted by Ryanair comparing airlines for punctuality from the UK Civil Aviation Authority (CAA).
The advertising authority decided that the ad was not misleading and that no further action was necessary.