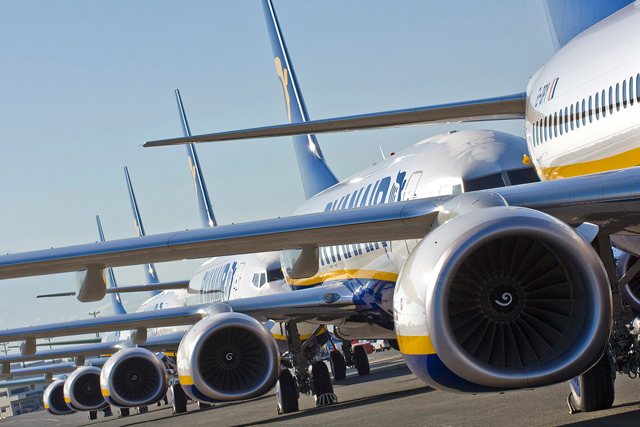 The budget airline has reported a total of €420.9m pre-tax revenue in the year to 31 March, up from €341m last year.
Ryanair attributed 12% of its profits to an increase in average fares and strong "ancillary revenues" offset by a rise in fuel costs.
The airline reported a 26% increase for its profit after tax, with €400.7m net revenue in the year to 31 March, up from €319m last year.
Michael O'Leary, chief executive, Ryanair, said he was "pleased to deliver a 26% increase in profits and 8% traffic growth" in the circumstances, helped by reductions in staff and strong inflight sales, with ancillaries up 21% to €802m.
O'Leary said the airline remains cautious in its financial outlook for the next year due to the "impact of the recession, austerity measures, and falling consumer confidence on fares".
He said: "Despite these concerns we cautiously expect that our average fares will rise by up to 12% this year due to a better mix of new routes and bases, slower traffic growth, and higher competitor fuel surcharges.
"However, these higher fares will only help us to finance higher fuel and rising sector length related costs, and accordingly, we expect profit after tax for [the next financial year] to be similar to the [this year's] result."
Ryanair continues to call for a complete overhaul of Dublin Airport Authority, warning of "further tourism and job losses" without total reform.
It noted that in 2010, following a 27% hike in fees, Dublin airport traffic fell by three million passengers to just over 18 million, a fall of 30% from its 2007 peak of 24.5 million. Dublin's traffic is also reported to have continued to decline in Q1 2011.
In a statement Ryanair said: "To reverse this disastrous collapse, and return to tourism growth, the DAA airport monopoly should be broken up and replaced with competing terminals and airports, which will deliver competitive airport charges.
"Unless the new Government introduces these reforms then traffic at the DAA airports will continue to fall, leading to further tourism and job losses in the Irish economy."
In April, two Ryanair press ads were banned by the Advertising Standards Authority for misleading consumers.
The ads featured a woman wearing a bikini to promote flights in February and March. The destinations advertised had a maximum temperature of 11 degrees celsius at the time of travel.