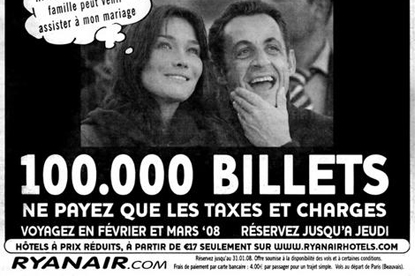 Queen Sofia's image was used after she flew with the airline, taking a £13 flight from Northern Spain to London to visit her sick brother Constantine at a London hospital.

After receiving complaints from La Zarzuela, Spain's equivalent of Buckingham Palace, the airline apologised, promising to donate €5,000 to a charity of the Queen's choosing.

The ad is the latest in a string of print campaigns for the budget airline to spark international outrage.

Last year, a diplomatic row with the Italian government ensued after the airline refused to withdraw an ad featuring the Italian minister Umberto Bossi "giving the finger" to passengers.

That spat followed shortly after the airline was forced to pay €60,000 to the French president, Nicolas Sarkozy, and his wife, Carla Bruni, for using an image of the couple without their permission in another of its ad campaigns.

The poster featured an image of the soon-to-be-wed couple alongside the slogan: "With Ryanair all my family can come to my wedding."