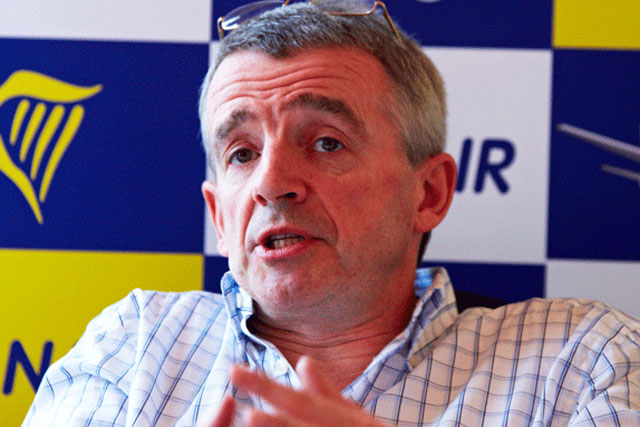 Net income at the budget airline dropped to £77.39m in the quarter while revenues were up 11% to €1.28bn.
Ryanair said its rise in fuel costs for the three months to 30 June 2012 reached €543.8m, an increase of 27% on the same period last year, while average fares rose by 4% and traffic grew by 6%.
Overall revenues increased from €1,155m to €1,284m, stating that its full year guidance remains unchanged.
While Ryanair blamed a weak economy and fuel prices for its losses, rival easyJet posted a 10.5% rise in third quarter revenues, boosted by consumer demand for beach holidays.
EasyJet last week re-issued its profit guidance for the year to September with the expectation that pre-tax profits will be between £280m and £300m, up from the previous guidance of £272m, attributing its success to cheaper fuel and its pan-European marketing activity.
Ryanair has recorded a six-fold increase in marketing spend per passenger over the three month period, up from €8.4m to €51.6m, due to the launch of six new bases and new routes during the quarter.
Ryanair said the ensuing increases in ancillary costs were due to the increased level of sales.
Michael O'Leary, the airline's chief executive said: "Our outlook remains cautious for the year.
"We expect full year traffic to grow 4% [while] positive yields will continue in the second quarter and anticipate smaller fuel cost increases.
"Currently, we have no visibility of next winter's yields but expect that continuing austerity, EU recession, and lower yields at new bases will to restrain fare growth.
"Until we get some second half yield visibility our guidance for the full year remains unchanged, in the range of €400m to €440m as previously guided."
Follow @loullamae_es