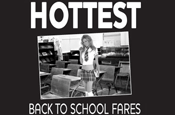 The Advertising Standards Authority upheld 13 complaints about the ad headed "Hottest back to school fares" and has ordered newspapers not to accept it.
However, Ryanair argued that many national newspapers regularly ran pictures of topless or partially clad women.
Peter Sherrard, the airline's communications chief, said: "This isn't advertising regulation. It is simply censorship."