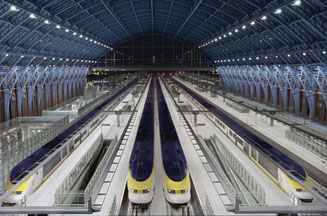 The low-cost carrier is offering a one-way journey between London and Paris for £99/€99, and will operate a number of special flights between the cities on 23 December to 'help passengers return home for Christmas'.
'Ryanair will help Eurostar passengers stranded in London and Paris to return home in time for Christmas with rescue flights for £99/€99 one way including taxes and charges available via www.ryanair.com,' said Ryanair spokesman Stephen McNamara.
'Seats are limited so passengers should book as soon as possible as these seats are likely to be snapped up.'
More than 2,000 people travelling with Eurostar were trapped in the Channel Tunnel on Friday night after five trains broke down due to low temperatures.
Eurostar said it is 'confident' full services will resume in the next 48 hours.