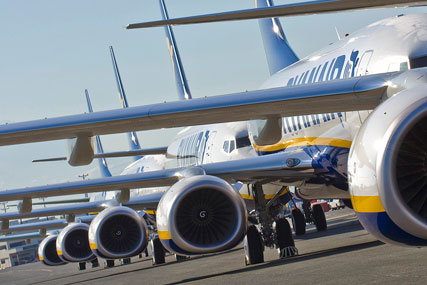 Michael O'Leary, chief executive of the airline, said: "We have recently started trials of reserved seating for 21 extra legroom seats on selected routes for a fee of €10 per seat. If successful we will roll out reserved seating across more of our network this winter."
First quarter revenues have jumped 29% year on year to €1.16bn, though the performance has to be put in the context of the extended ash cloud disruptions last April and May.
Pre-tax profit for the three months to 30 June came in at €156.6m, compared with €104m for the same period last year.
Its adjusted profit after tax increased by 1% to €139.3m in its first quarter results, due to "substantially higher" fuel costs.
The adjusted figure does not include the "exceptional item" of €50m pre-tax costs to the airline from the volcanic ash disruptions in April and May last year.
O'Leary said: "Significantly higher revenues were largely offset by higher operating costs as fuel rose 49% (by €140 m) to €427m". Airline fares increased by 11% in this period."
O'Leary announced alongside the results that Ryanair plans to launch legal proceedings against BAA Stansted, seeking "a recovery of the substantial overcharges" that the airline believes it and other Stansted airlines have "suffered at the BAA Stansted monopoly's hands" in recent years.
Ryanair has not named the other airlines, or what financial benefit it is hoping to gain from the proceedings.
Last Friday, rival airline easyJet reported a year on year increase in revenues of 23.2% to £935m. The airline raised its pre-tax profits guidance for the year between £200m and £230m due to success in attracting business passengers.