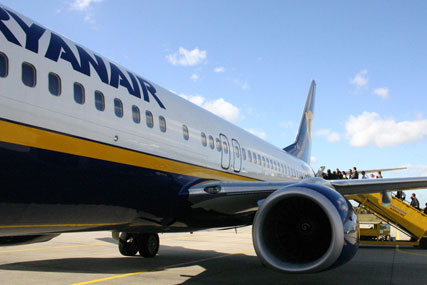 Tyler, from Walthamstow, London, has been ordered by a tribunal to hand the domain name over to Ryanair because the site made £322 through commercial links to third-party websites.
He set up the site in February 2007, specifically to criticise the budget carrier, which he describes as "the world's most hated airline".
Ryanair took Tyler to the domain name tribunal, after lodging a complaint about the site in April. The airline claimed that the ihateryanair site took unfair advantage of its name and held defamatory content.
Nominet, the company that maintains the register of .uk domain names, facilitated the case and a panel ruled that Mr Tyler should forfeit the site because he had used the Ryanair brand to make money.
Jane Seager, the adjudicator, said: "Whilst the links to other airlines may be seen as genuine recommendations as part of an ongoing discussion about air travel, commercial links cannot.
"The respondent only earned money because of the traffic to the website, and such traffic must have been influenced by the domain name."
She added: "It cannot be fair to take advantage of the reputation attached to another party's trade mark in this manner, whether it be good or bad."
Seager made it clear, however, that the money earned through commercial links was the only reason that ihateryanair.co.uk is to be handed over to the airline.
She said: "It is the very nature of a criticism website that discussion should be open and not influenced by commercial concerns.
Stephen McNamara, head of communications at Ryanair, said: "We note and welcome this ruling and hope in future that this person will confine himself to fact-based criticism of Ryanair, the world's favourite international airline with over 73.5 million passengers this year."
Should he choose to, Tyler now has 10 working days to make an appeal, after which the site will be handed over to Ryanair. An exact date for the handover has not been confirmed.
Tyler however, has not been deterred.
His new site, ihateryanair.org, promises to "continue to provide you with all the latest on how this pathetic excuse for an airline will attempt to extract cash from you through sneaky hidden charges, fly you to places that are not where you actually want to go, and leave you stranded when the cr*p hits the fan".