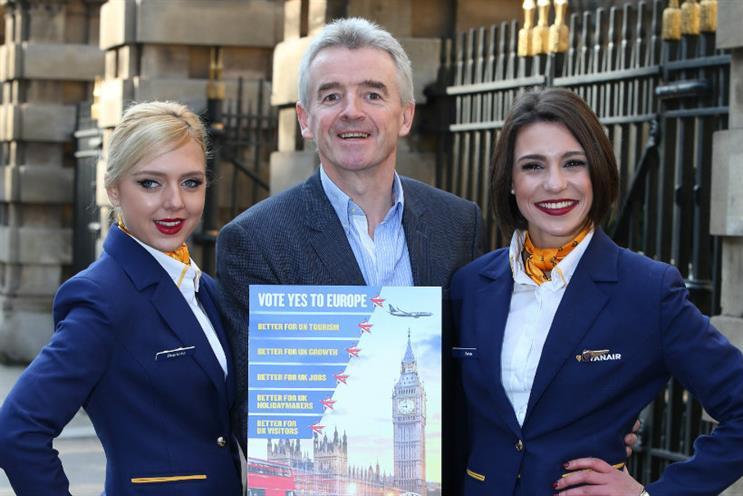 Ryanair launched a seat sale on Wednesday (18 May), offering to fly Brits home in time for the referendum for as little as €19.99.
The airline has come out prominently in favour of remaining in the EU, and has dubbed the sale "Fly home to vote Remain". In a press release announcing the sale, the airline's chief marketing officer Kenny Jacobs says "future growth prospects" for the UK would be stronger if the country remained in Europe.
The Vote Leave camp claims the ad breaks referendum rules and section 1 of the Bribery Act, which involves inducing a person to do something "improperly".
Ryanair chief executive Michael O'Leary described the tactics as "desperate" in a statement.
Vote Leave's campaign director Dominic Cummings has, according to The Guardian, sent a two-page document to the Metropolitan Police commissioner Sir Bernard Hogan-Howe outlining his complaints.
Cummings said: "This appears to be corrupt, since the company is offering discounts on the commercial rate to customers with the sole aim of ensuring that they vote and vote to remain in the European Union."
The Metropolitan Police has confirmed it received a complaint.
O'Leary said the firm's seat sale "fully complies" with Ryanair's policy of cutting costs of air travel.
He said: "Vote Leave must be getting really desperate if they are now objecting to low fare air travel for British citizens."
Update (11.45am): Ryanair has announced that its 'Fly Home to Remain Sale' will be extended by 24 hours to midnight on Friday (24 June).
In a statement, Michael O'Leary said: "As the UK's largest airline, Ryanair is absolutely clear that the UK economy and its growth prospects are stronger as a member of the European Union and the single market than they are outside the EU.
"With less than five weeks to go, we will continue to work hard to help deliver a resounding 'Remain' majority on 23 June – and ensure that the 'Leave' loonies don't ban low fare air travel too."