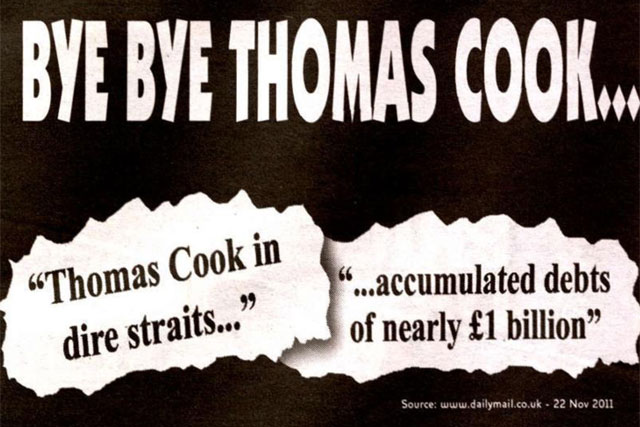 The series of three ads attracted 15 complaints to the Advertising Standards Authority, though not from Thomas Cook, covering four different counts, of which two were upheld.
The ads were run at the height of Thomas Cook's financial difficulties near the end of November last year, when poor trading forced the tour operator to borrow £100m.
The ads appeared in the Daily Express, the Oldham Evening Chronicle and Scotland on Sunday.
Although Ryanair was not the only company to run ads referencing Thomas Cook's troubles – Thomson put out one to underline it was "in great shape" despite "another holiday company experiencing turbulence" – its tone was more robust.

All Ryanair's ads quoted two extracts from news stories on the Daily Mail website – "Thomas Cook in dire straits …" and "… accumulated debts of nearly £1bn". Other text stated: "Book Ryanair. Over three billion in cash reserves."
One ad also ran the words, "Ryanair – guaranteed to keep flying this Christmas", "We're financially secure" and "Ryanair – guaranteed to keep flying".

Ryanair contested the complaints but the ASA said the heading "Bye bye Thomas Cook", pictured alongside the newspaper headlines, would lead consumers to believe that Thomas Cook was likely to go into administration and was therefore a risky choice.
It also considered the line "Ryanair – guaranteed to keep flying this Christmas" implied Thomas Cook would cease trading by Christmas 2011.
The ASA ruled the ads broke rules on responsibility, misleading advertising, comparisons with identifiable competitors and imitation and denigration.
A Thomas Cook spokesman confirmed it did not submit a complaint to the ASA but declined to comment further.
The ASA adjudication is the second against Ryanair this year.
The first upheld complaints about press ads featuring cabin crew in their underwear to promote the airline's charity calendar.
Follow Daniel Farey-Jones on Twitter @danfareyjones