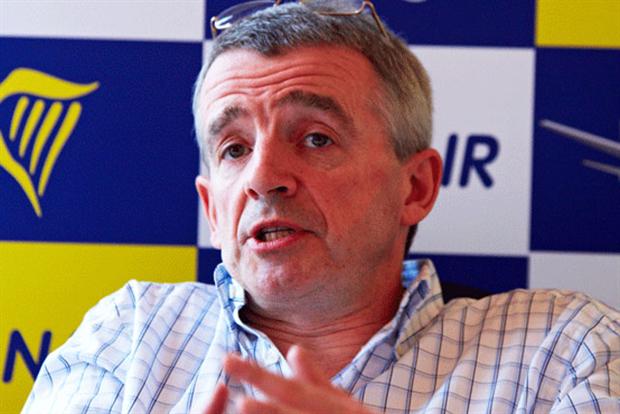 The three months ending 30 June also involved the airline investing more into promoting customer service improvements and the launch of new routes. Consequently, "marketing, distribution and other costs" were up 11% year-on-year to €59.6m (£47m).
The figures for the quarter are a marked improvement on the €78m (£62m) profit generated in Q1 of 2013, although the airline warned that this year's figures have been "distorted by a very strong Easter", with no comparable holiday period in the previous year.
The quarterly performance also contrasts with Ryanair's full-year figures – in May it reported its first annual profit loss in five years, with pre-tax profits down to €523m (£414m) for the 12 months ending 31 March
At the heart of Ryanair's marketing lies its recently launched "Always Getting Better" programme, which chief executive Michael O'Leary flagged up in the quarterly results.
He said: "Our 'Always Getting Better' programme has delivered significant improvement to the customer experience. In addition to the initiatives launched last September, which included allocated seating, free second carry-on bags, and an easier to use website with a 'fare finder' facility, we launched our family product in June."
In Q1, Ryanair flew 24.3 million passengers, an increase of 4% on the same period last year, while fares increased by an average 9%. Revenues were up 11% to €1.49bn (£1.18bn) unit costs fell by 2% and 1%,excluding fuel.
Looking ahead, Ryanair announced that it is launching a business service in September that will allow same-day flight changes, bigger bag allowances, premium seat allocation and fast-track through airport security.
O'Leary said: "This new service along with our new routes, improved schedules and wider GDS distribution, will make Ryanair's low fares much more accessible to, and attractive for business customers,
"We will continue this winter to rapidly develop both our website and mobile platform to deliver more innovative features and services in addition to the lowest fares to our customers."
But he stressed to analysts and investors that, while the airline was on track to deliver a strong half-year performance, "during which traffic will grow by 3%", the business faced a number of challenges in the second half, including a "softer pricing environment" in response to many competitors lowering fares
Back in May, Ryanair's marketing chief Kenny Jacobs spoke to Marketing about how its new customer service stance meant it is now a "brand that listens", adding that as CMO he had "the best marketing job in Europe".