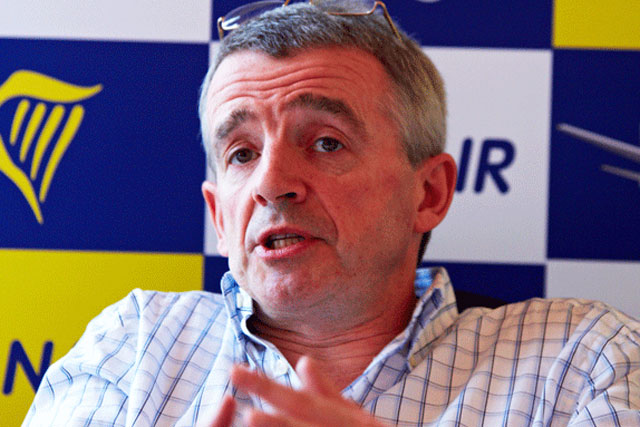 The decision was made by the European Commission (EC) yesterday and referred to tax agreements between Ireland and the tech giant made in 1991 and 2007.
But speaking at a press conference to announce 2017 additions to Ryanair's schedule, O'Leary said that national tax arrangements were outside of the EC's remit.
"There are certain things Europe has no competence or rights in," O'Leary said. "It's one of the fundamental principles of the EU that each country has the freedom to make its own tax decisions.
"It [the decision] has no chance of surviving a court ruling. Frankly the Irish goverrnment shouldn't even appeal the deciison – they should just write a letter to Europe and tell them to fuck off."
Brexit blues
Ryanair's chief marketing officer Kenny Jacobs told the audience that the airline was seeing 15% growth in the UK market in its current financial year – to next March – but that it was forecasting this would drop to 6% in the following year, as the medium term effects of Brexit take hold. Without Brexit, said Jacobs, this figure would have been between 10% and 15%.
However, he added that the falling pound, which has lost about 10% of its value against the Euro since the vote on 23 June, meant good news in terms of visitors to the UK. "Weaker sterling is a big opportunity for inbound tourism," he said. "We still do more than any airline in terms of bringing European tourists into Britain."
Being nice to people
Ryanair is in the third year of its brand improvement programme, "Always getting better", which O'Leary claimed had "transformed" the brand's reputation. Jacobs stated that on customers who used the app Rate My Flight immediately after landing, 89% were now saying they were satisfied with their experience.
The brand still has a long way to go to alter perceptions; on Rate My Flight's scores, it is considerably behind easyJet on overall flight experience, seat and comfort, and airline staff, enjoying a lead only on value for money, its traditional selling point.
But O'Leary was adamant that his damascene conversion to better customer service was behind the company's rapid growth. "If I'd only known that being nice to customers was so nice for business I'd have done it much earlier," he said.
Getting down to business
As part of the programme, Ryanair has made improvements to its Business Plus fare and in June launched a new intermediate tier, Leisure Plus. "We never really focused on offering them the package of services they were looking for before," said O'Leary – but 27% of flyers are now using one of the two products.
Jacobs said the brand's changing reputation was also making it a more serious consideration for business people. "And not just small and medium businesses – UK plcs are saying 'it looks good to be travelling Ryanair in this day and age'," he said.
O'Leary added: "We have lots of rich business people flying with us now. I'm rich and I flew with us this morning."