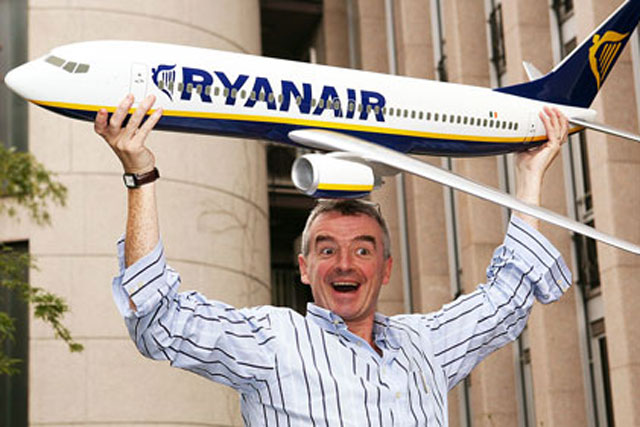 Why are you the CEO and, in effect, the marketing director, too?
O'Leary: Because I'm so good at it.
Why have you not appointed an agency to carry out your advertising work, or invested in a TV ad?
O'Leary: Ad agencies are useless, expensive and present the same old crap that they produce for every other company. Marketing companies are rubbish.
Do you think the Ryanair brand can survive on publicity stunts and press coverage alone?
O'Leary: Well I have 29 years of evidence suggesting that it can. [Richard] Branson has been doing it for years.
As long you run around generating noise, which is now easier because you've got all these halfwits on social media ranting and raving, inventing stories, it drives people on to our website. And we don't spend €50m or €100m on marketing companies to do it.
What about the stories about ad pitches?
O'Leary: There are no pitches going on for Ryanair. Nobody would get in the door.
How much value do you place on negative coverage or complaints?
O'Leary: As long as we generate bookings then we welcome them just as much as positive coverage.
You don't think that the negative coverage could affect your brand strategy?
O'Leary: We don't have a brand strategy at all. We just want to pile it high and sell it cheap.
The complaint from last summer - where the woman on Facebook who was travelling to Alicante without having printed out her five boarding cards got hit for three hundred quid - she ranted about it on social media, got half a million followers and then the newspapers picked it up.
We got wall-to-wall publicity from that complaint and we said it was her own bloody fault, too: she didn't print off her boarding cards.
Don't you see any kind of drop in bookings after these incidents?
O'Leary: Short of committing murder, negative publicity sells more seats than positive publicity.
Charging for toilets continues to be the number one story that resurfaces in the press and it's the gift that keeps on giving. We've never done it, but it keeps coming up on social networks every three or four months, the media picks up on it and then someone writes a story on it.
Negative publicity generates so much more free publicity that it sells more tickets.