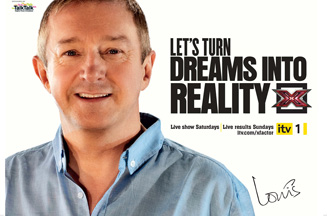 The BBC debuted an interactive application for Strictly Come Dancing on Friday (2 October), which enables fans to interact with the live broadcast of the show. ITV is launching its own interactive campaign for The X Factor this Saturday supported by press and outdoor ads.
Viewers of The X Factor will be able to comment live on the show during transmission on ITV.com. Its 'Cover It Live' app will allow users to take part in conversations about the programme and those granted 'superfan' status will be invited to have their X Factor comments published automatically to the website.
The campaign, conceived by ITV and creative agency Bartle Bogle Hegarty, will include a Facebook app that will post updates about contestants direct to a user's news feed. The programme's Facebook fan page has 500,000 members and each finalist will now have their own Facebook fan page to update regularly. Twitter will be used as part of the campaign, with users able to download a Twitter ribbon to discuss the show live with other fans.
The BBC's 'Strictly Social' app, designed by Pancentric Digital, is hosted by a different celebrity guest each week. The host will participate in live chat, with users able to show support for different contestants and predict the judges' scores.
Jo Twist, multiplatform commissioning executive for entertainment at the BBC, says the app builds on the show's already vocal fan base. The campaign aims to 'bring fans from all across the country together on a central platform', she says.
ITV is aiming to engage viewers across the entire weekend, according to Paul Ridsdale, head of marketing, entertainment, sport and news, at ITV, with performances being broadcast on a Saturday and the results show on a Sunday.
Last Saturday, The X Factor continued to outdo Strictly Come Dancing, delivering 10m viewers at 8pm-9.30pm against 'Strictly's 8.4m viewers at 7pm and 9.15pm.
The ballroom-dancing talent show is facing controversy after it was revealed dancer Anton du Beke refered to his celebrity partner by a racial epithet during rehearsals two weeks ago. The BBC has so far received 63 complaints and is under pressure to sack Du Beke, who apologised to partner Laila Rouass after the comment.