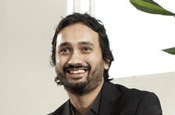 Rebelo will start his new position in June and report to Robert Senior, UK chief executive of the SSF Group.
His appointment completes the senior team line up at Saatchi & Saatchi London, following the appointments of Richard Huntington as head of strategy and Paul Silburn as creative partner last year.
Rebelo, who has been instrumental in building Saatchi Singapore's creative reputation since he joined from its Australia office in 2005, will be responsible for the day-to-day running of the London office.
Rebelo said: "Saatchi & Saatchi London is an exciting place to be right now. Robert has put together an astonishing leadership team in Kate [Stanners], Paul and Richard. I have pretty bold ambitions for the agency and look forward to working with Robert and the team to get there."
Senior said: "Michael is world class talent. He has exactly the right combination of experience, talent and energy to make a colossal difference."
Before moving to Singapore, Rebelo worked as general manager of Saatchi & Saatchi Australia and ran the Wellington office of Saatchi & Saatchi New Zealand.