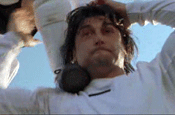 The ad sees a local football team that scores a penalty, before breaking into an acrobatic goal celebration that culminates in the team forming a tower by standing on top of each other.

The endline is: "Carlsberg don't do goal celebrations, but if they did, they'd probably be the finest goal celebrations in the world."

Saatchi & Saatchi created Carlsberg's famous "Probably the best lager in the world" slogan for ads that first appeared in 1973.

Last month the brand overtook Stella as the most popular UK lager brand, overtaking Stella Artois for the first time since 1990.