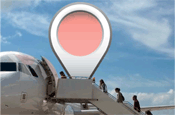 The G1 phone will allow users to download their own applications, rather than being stuck with those provided through the phone company.

The open source nature of the software promises to make it much easier for third parties to develop applications for mobile handsets.

Richard Huntington, director of strategy at Saatchi & Saatchi, said: "Our task as an agency is always made significantly easier when we're working with brilliant, breakthrough brands and products. ?

"And that's exactly what the T-Mobile G1 is."

The creative promotes the launch of the phone through giant Google Mobile map icons appearing in quintessentially British locations.

The pins are accompanied by a speech bubble which reads: "It's here. The new T-Mobile G1 with Google".