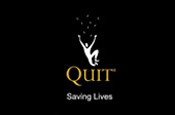 In a bid to move away from the clichéd fear factor often used in anti-smoking advertising, the new campaign aims to promote hope.
Steve Crone, the chief executive of QUIT, said: "These innovative posters are a great initiative to target smokers and make them think about what they might miss out on by continuing to smoke."
The posters, running on Adbins media, present conversations about various accomplishments and events happening to people later in life, from becoming a grandparent to finding love in your late seventies.
The strapline for the campaign reads: "Life. It's worth sticking around for."
Copywriter Ant Melder said: "We realised that hope rather than fear could be a powerful message for us – that we could inspire smokers to quit rather than scaring them into it."