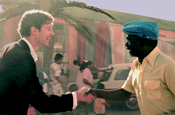 The company has cited the agency's relationship with Axa, the French financial business, as the reason for the split.

Saatchis picked up the Axa account in May this year following an unresolved pitch.

TBWA\London, VCCP, Euro RSCG and the incumbent, WFCA, were all shortlisted but no winner was announced.

Robert Senior, the UK chief executive of the SSF Group, said: "The scope of the AXA account has grown and owing to the irreconcilable conflict, we've parted company with Standard Life.

"Over the last 18 months, we've enjoyed working with Standard Life on a number of strategic projects while they've been restructuring their marketing department."

After winning the Axa account, Saatchis put it into the Team Saatchi division, in an attempt to avoid conflicts with its Standard Life business.