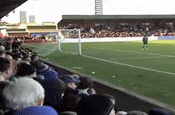 This one, a viral, is filmed on a camera phone in the crowd at Kingsmeadow, the home of AFC Wimbledon in the Carlsberg FA Trophy match against Torquay in February 2008.
As the crowd waits expectantly for the game to start a loud tannoy announcement begins as the voice says: "We have a very important message for a dons fan Derek Wilkinson with a message from your wife who's just called from St Georges hospital where she's given birth to a healthy 6lb 4oz baby boy."
The message then becomes more detailed and includes the wife allowing him to name the child with a combination of Wimbledon players' names, to get an au pair from Sweden and telling him that she'll get a taxi back from the hospital on Tuesday so he doesn't have to miss the game at Bromley.
The announcement then finishes with: "This announcement was brought to you by Carlsberg. Carlsberg don't do wives but if they did they'd probably be the best wives in the world."