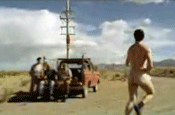 The ad is intended to dramatise how Visa can take the hassle out of financial transactions
It was directed by Antoine Bardou-Jacquet, and features music by indie artist Whitey.
The naked man is shown in a hurry to get to his wedding, after being dumped as a stag night prank.
On the way, he buys a ring, a suit and a haircut, before arriving at the church on time.
The pan-European ad broke yesterday on UK TV.
CreditsTitle:
running man
Client:
Visa Europe
Brief:
Dramatise the role Visa plays in people's lives, taking the hassle out of financial transactions of any value, making life flow better
Agency:
Saatchi & Saatchi
Copywriter:
Dave Henderson / Richard Denney
Art director:
Richard Denney / Dave Henderson
Planner:
Richard Huntington
Account handler:
Michelle Greenhalgh
Producer:
Rebecca Williams
Media buying agency:
Mediaedge:cia
Media planner:
Annie Allen / Stuart Butler / Sarah Matthews
Production company:
Partizan
Director:
Antoine Bardou-Jacquet
Editor:
Bill Smedley
Post-production company:
The Mill
Audio post-production company:
Wave (Jack Sedgwick and Tom Heddy)
Release date:
24 March 2008
City/country:
Europe
Exposure:
TV, viral, print, in store
Agency contact:
Eleanor Conroy