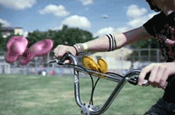 The appeal aims to raise £50 million to improve and expand its helpline and online counselling services.

The ad is based around the strapline "Help us listen to every child's voice" and features a butterfly whose wings are made of ears.

As it flutters through a city it passes a number of children who are enjoying themselves and their fun-filled voices can be heard over a folksy sound track.

However, when it reaches a sad looking girl sat against a wall and a boy looking out of the window of a tower block there are no voices.

1st Avenue Machine and Passion Pictures created the animation in the TV ad.

The ad will be available here from 9pm tonight.