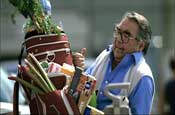 The agency's loss of the Toyota and Lexus briefs were factors in its billings loss of more than 17 per cent and its drop from ninth to 11th position. The numbers are revealed in Campaign's Top 100, using Nielsen Media Research figures.
Other networks also suffered severe billings drops: Euro RSCG fell by 21.83 per cent, while Ogilvy & Mather shrank by 21.1 per cent. Grey's billings went down by 16.25 per cent.
Elsewhere, Tesco's decision to switch its £50 million account to The Red Brick Road sees the agency make its Nielsen debut at 22, one place ahead of Miles Calcraft Briginshaw Duffy. The retail giant's departure from Lowe, however, wreaked havoc; the agency's billings fell by 42.32 per cent.
The rankings reflect a barnstorming year for Bartle Bogle Hegarty, which enters the top ten for the first time in its history after winning British Airways and significant amounts of Unilever global business. A billings tally of £212 million sees the shop move up from 11th to seventh.
There was less drama in the media rankings. MediaCom retained the top media agency ranking despite an 8.5 per cent drop in billings. It remained well ahead of its closest rival, OMD: the only top-five media shop to increase its billings.
Walker Media caught the eye by rising three places to occupy eighth spot in the rankings after its Barclays win and strong organic growth.
- Headliner, p11; Opinion, p19.