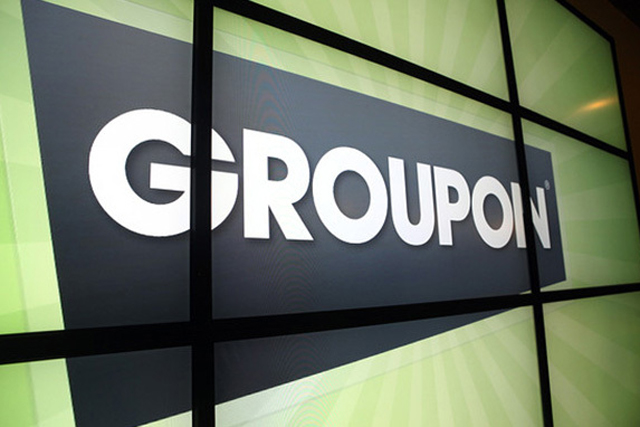 Mason was ousted a day after the company's value plunged around 24% after disappointing results for the year ending 31 December, which saw it post an operating loss of $12.9m in the fourth quarter.
The site has seen its stock price take a hammering since its IPO in November 2011 amid growing speculation the daily deals model has fallen out of favour with the public.
Rival site LivingSocial told 400 staff in November to, which accounts for around 10% of its workforce, that it was laying them off and posted a loss of $650m in 2012.
Mason told Groupon staff that he had been fired in a memo that began: "I've decided that I'd like to spend more time with my family. Just kidding - I was fired today."
In the candid memo, Mason admitted he was "accountable" for the "controversial metrics" used by the company and the fact the stock price is "hovering around one quarter of our listing price".
Groupon has announced executive chairman Eric Lefkofsky and vice chairman Ted Leonsis have been jointly appointed to the newly created office of the chief executive on an interim basis.
Lefkofsky credited Mason for his role in inventing the daily deals space and praised his "leadership, his creativity and his deep loyalty to Groupon".
After initial early success, Groupon has begun to struggle as competition in the market increases as Google and Amazon enter the fray and growth within the popularity of digital couponing slows.
Research from eMarketer estimates 92.5 million in the US redeemed a digital coupon in 2012, up 4.9% from 88.2 million people in 2011.
However, eMarketer predicts the market will only see 4.6% growth in 2013 and 3.4% growth in 2014.
Groupon has also particularly struggled in the UK market with Roy Blanga, managing director for Groupon UK, admitting to Marketing that "we haven't been as good as we should have been".
Matters came to a head when the OFT launched an investigation into the company in July 2011, while in December 2011, the Advertising Standards Authority (ASA) referred Groupon to the OFT over "serious concerns" after it broke UK advertising regulations almost 50 times in less than a year.
Read Mason's memo in full:
People of Groupon,
After four and a half intense and wonderful years as CEO of Groupon, I've decided that I'd like to spend more time with my family. Just kidding - I was fired today. If you're wondering why... you haven't been paying attention. From controversial metrics in our S1 to our material weakness to two quarters of missing our own expectations and a stock price that's hovering around one quarter of our listing price, the events of the last year and a half speak for themselves. As CEO, I am accountable.
You are doing amazing things at Groupon, and you deserve the outside world to give you a second chance. I'm getting in the way of that. A fresh CEO earns you that chance. The board is aligned behind the strategy we've shared over the last few months, and I've never seen you working together more effectively as a global company - it's time to give Groupon a relief valve from the public noise.
For those who are concerned about me, please don't be - I love Groupon, and I'm terribly proud of what we've created. I'm OK with having failed at this part of the journey. If Groupon was Battletoads, it would be like I made it all the way to the Terra Tubes without dying on my first ever play through. I am so lucky to have had the opportunity to take the company this far with all of you. I'll now take some time to decompress (FYI I'm looking for a good fat camp to lose my Groupon 40, if anyone has a suggestion), and then maybe I'll figure out how to channel this experience into something productive.
If there's one piece of wisdom that this simple pilgrim would like to impart upon you: have the courage to start with the customer. My biggest regrets are the moments that I let a lack of data override my intuition on what's best for our customers. This leadership change gives you some breathing room to break bad habits and deliver sustainable customer happiness - don't waste the opportunity!
I will miss you terribly.
Love,
Andrew