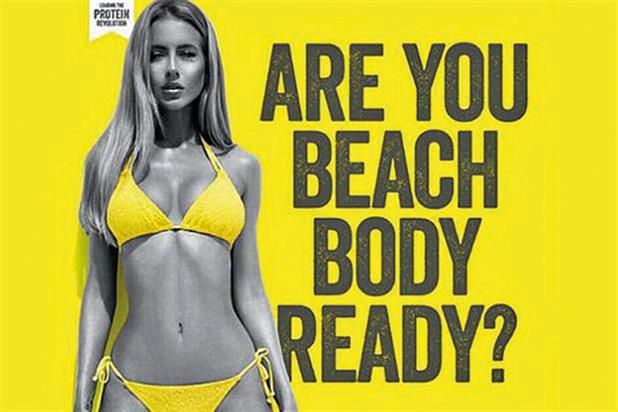 Images plastered over the London Underground last year of a model in a skimpy yellow bikini beside the tagline "Are you beach body ready?" sparked outrage and protests against body shaming and the objectification of women.
Despite more than 200 complaints about the Protein World posters, the Advertising Standards Authority found that they were not "offensive" but did ban the campaign because of concerns over weight-loss claims. The scale of the backlash – including a protest in Hyde Park – against Protein World's meal-replacement slimming products has led the new mayor of London, Sadiq Khan, to take action.
Unrealistic expectations
In his role as chair of Transport for London, Khan has demanded a ban on ads that "could pressurise people to conform to unhealthy or unrealistic body images".
He said his decision has partly been influenced by his experience as a father of two teenage girls.
"Nobody should feel pressurised, while they travel on the Tube or bus, into unrealistic expectations
surrounding their bodies and I want to send a clear message to the advertising industry about this," Khan said.
As part of his plans, TfL will set up a steering group including Exterion Media, which manages outdoor ad space on the Tube, and JCDecaux, which looks after TfL's bus-shelter ads, to ensure that there is compliance with the rules.
Khan's actions are well-meaning but how does the ad industry define an "unrealistic" body image?
The growing obesity crisis in the UK means that the nation needs to work harder on cutting down
on food and drink high in fat, sugar or salt, and be more active. It has become so much of a problem that the government is looking at introducing a tax on sugar.
Tipping the scales of the norm
Alan Mackie, executive creative director at Rapier, explains: "The Mayor of London's DataStore claims 2.9% of the London population are underweight and 46.3% are overweight or obese. And only 44.5% of the entire UK population is a normal weight – in other words, allowed to feature in a Khan-approved ad."
The London mayor's move coincides with a study by the ASA into gender stereotyping in ads. The reg-ulator says that it will help to "ensure we continue to reflect prevailing standards in society".
The worry for those working in advertising is that the threat of regulation will lead to unnecessary additional red tape when the vast majority of ads aren't guilty of body-shaming.
---
NO
Alan Mackie Executive creative director, Rapier
"I don't think we need another censor. We should ban unhealthy and unrealistic images, but I believe the ASA does a good job and Sadiq Khan shouldn't waste our money on another governing body."
---
MAYBE
Stephanie Feeney Director of strategy, 72andSunny Amsterdam

"Advertising in public spaces does have a social responsibility. But of all the public health and safety issues facing the UK (gambling, violence, mental illness), the myopic legislation of representations of the (female) physical form seems misguided."
---
YES
Frazer Gibney Chief executive, FCB Inferno

"While the ban presents some significant challenges, Sadiq Khan's stance is undeniably a positive move in the right direction. The mayor is listening to how people reacted to an unhealthy body-image ad and using his power to make change happen."
---
YES
Charlie Ebdy Head of strategy, Vizeum

"With negative body image such a pernicious influence on the public – physically, emotionally and financially – it's entirely appropriate that Sadiq Khan removes unhealthy depictions from publicly owned space."