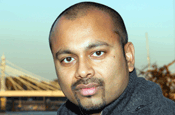 Saha, the former head of advertising and brand for Microsoft Xbox EMEA, joined Agency Republic in October 2007.

He replaced Patrick Griffith, who left the agency to set up Work Club alongside the former executive creative director, Andy Sandoz, and Martin Brooks, the former chief executive of Zulu.

It is understood that Saha recently stood down from his day-to-day planning director role, in preparation for his departure.

Saha has been replaced by Alistair Millen, a senior planner at Agency Republic, who has been promoted to the role with immediate effect.

Saha will remain at the agency in a freelance capacity until he joins TBWA in January 2009.

In his new role, Saha will take the strategic lead on TBWA\London's E.ON business, as well as working on developing the agency's digital offering.

Saha will report to Simon Law, the TBWA head of planning.