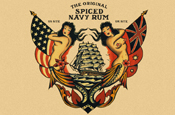 The review is being handled by ISBA, and the successful agency will be responsible for creating a new Sailor Jerry website and digital advertising campaigns.

The drinks distributor is looking to position the brand away from other rums available on the market, such as Morgan's Spiced and Gosling's Black Seal.

The pitch for the business will be the first time that Sailor Jerry has held a retained digital agency.

Sailor Jerry, which consists of a blend of Caribbean rum flavoured with ginger, cinnamon, cloves, vanilla and lime, was initially launched in the U.S in 2000, named after the legendary tattoo artist Norman 'Sailor Jerry' Collins.

After gaining popularity in the States, First Drinks acquired the licence to distribute the drink in the UK in 2003, and rolled out the brand nationwide in June 2004.

Since it's launch, Sailor Jerry has mainly concentrated on event marketing.

In November the brand launched the Art of Sailor Jerry Exhibition, in which Norman Collins' artwork was displayed in venues across Britain. The drink has also sponsored the Kerrang! Awards for the past two years.