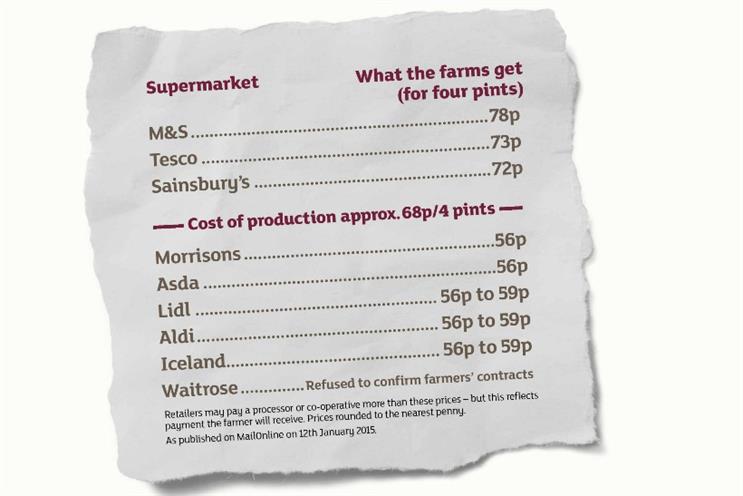 In a transparency drive, the print ad is aimed at dampening growing anger and confusion over the price farmers are paid for milk.
It shows in descending order how much retailers pay, with M&S paying the most - at 78p - and Sainsbury's ranked third behind Tesco.
The ad shows Sainsbury's pays farmers 72p for four pints based on a "cost of production model" which Sainsbury's said ensures farmers can "make a living". It costs farmers an average of 68p to produce the milk, the ad states.
Hitting out at industry competitors, the print spot claims Morrisons, Asda, Lidl and Iceland pay less than the average cost of production, with Lidl, Aldi and Iceland paying as little as 56p for four pints - though in the small print it does say these retailers may pay more to farmers than stated though a 'co-operative' system.
It reads: "We believe the farmers who produce our milk should also make a living. If you buy that, maybe you should buy our milk."
When asked whether the ad could reflect negatively on the business for highlighting the fact Sainsbury's pays less than M&S and Tesco, the retailer said the campaign was "about supporting British milk farmers by paying a fair price."
"We'd like to point out to consumers that some pay a fair price to British milk farmers, of which Sainsbury's is one," a spokeswoman said.
"The price we pay is based on the cost of production model we use, this is reviewed every three months (so sometimes we will be higher and sometimes we will be lower but it always reflects the input costs of the farmer). This is about supporting British milk farmers."
Commercial food director Paul Mills-Hicks said in a blog on the site: "Sainsbury's must remain competitive for our customers, but when we drop the price of milk to match competitors the cost of doing so is not passed onto our farmers.
"The challenge for us and the dairy industry is to ensure that customers understand that they can support the industry if they choose to do so. If they treat all retailers alike, commentators make that choice more difficult."
Read next