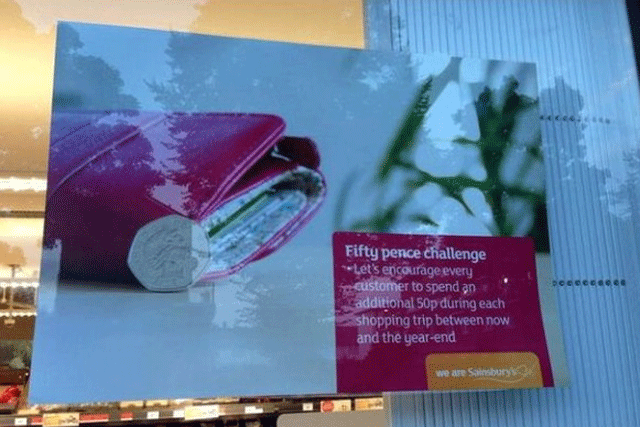 Coupe, on the 'Today' programme on BBC Radio 4 this morning, defended the move and said "it wouldn't be surprising in any business for us to try to sell more".
The retailer was left embarrassed yesterday after a customer tweeted a picture of a motivational poster meant for staff, revealing part of its sales strategy. The poster was created to encourage staff to persuade customers to spend 50 pence more each shop in the run up to Christmas.
Coupe's comments today came as the retailer reported its second quarter trading statement for the 16 weeks to 27 September.
The results revealed that total retail sales tumbled 2.3% and like-for-like sales fell 4.1% over the quarter. For the first half of the year, total retail sales dropped 3.4%. It has cut its forecast for the second half of the year to a 2.1% fall. It had previously forecast a 0.2% rise.
It is the third consecutive quarter Sainsbury's has reported a fall in sales. In March, the retailer reported sales had dipped for the first time in nine years.
Mike Coupe, who succeeded Justin King in July said: "In the second quarter, our performance has been impacted by the accelerated pace of change in the grocery market, including significant pricing activity and food price deflation in many areas.
"These conditions are likely to persist for the foreseeable future."