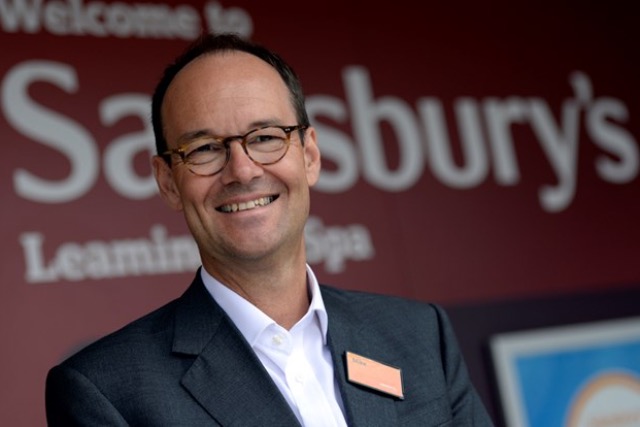 Total retail sales for the 14 weeks to 3 January 2015 were down just 0.4% and 2.5% including fuel.
The results tally with predictions made earlier this week, when analysts at Bernstein forecast Sainsbury's would report a 1.8% fall in like-for-like sales in the Christmas period.
Sainsbury's said the seven days in the build up to Christmas resulted in 29.5 million customer transactions, helped by price reductions on 1,000 products, part of its £150m investment in cutting prices.
Mike Coupe, Sainsbury's chief executive, explained that food price deflation and plummeting fuel prices had played to the consumer's advantage, allowing customers to "treat themselves over the festive period".
He warned that its outlook for the year ahead will "remain challenging", with continuing price deflation, price cuts and competition hitting sales.
There were successes for particular product ranges. Sales of Sainsbury's Taste the Difference own-label premium range grew by 5% year on year and the supermarket sold more than 57 million mince pies and more than 550,000 turkeys, an increase of over 8% year on year.
The results also highlighted a growing propensity among shoppers for more frequent local shops rather than larger shops at bigger stores.
Accordingly, Sainsbury's convenience business saw sales grow 16% in the quarter, with over six million customer transactions in the week before Christmas.
Coupe said: "The outlook for the remainder of the financial year is set to remain challenging, with food price deflation likely to continue.
"Our performance in the third quarter showed an improving trend quarter on quarter.
"However, given the uncertainty in the trading environment, food price deflation and the price reductions we announced this week, we currently expect our fourth quarter like-for-like to be similar to that of our first half.
"Our prices versus our supermarket peers have never been better and alongside our differentiated quality and service offer, we are confident we will help our customers 'Live Well for Less' throughout 2015."