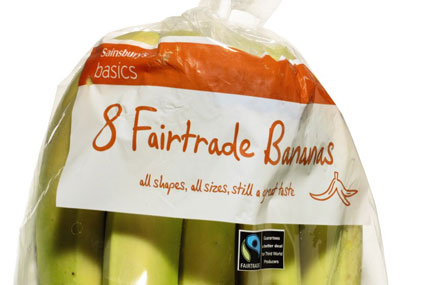 The UK's third largest supermarket said today (15 February) that one in every four pounds spent on Fairtrade products is spent in Sainsbury's.
Sainsbury's stocks more than 800 Fairtrade products in its stores, generating $16m of annual Fairtrade premium for worldwide communities.
The supermarket sells more than 650 million bananas a year, or 1,200 a minute, which means a total Fairtrade premium to banana suppliers of £3.9m ($6.16m) a year, benefiting small farmers, farm workers and farming communities.
Gwyn Burr, customer director at Sainsbury's, said: "As the world's largest Fairtrade retailer and a supporter since it was launched 15 years ago, we are extremely proud of our progress.
"Despite the current focus on price and great value, shoppers clearly want to know that producers are getting a fair deal too. We believe that Fairtrade is a great way to provide customers with the best of both worlds – ethically sourced products at affordable prices."

In November Sainsbury's reported that during the 28 weeks to 3 October, sales grew 5.7%, excluding new store sales, with a large growth in products with ethical credentials during the period.
At the time, the company claimed it was the largest retailer of fair-trade products by sales value in the UK.
In July 2007, the supermarket moved all its bananas to Fairtrade and has since converted 100% of its own brand roast and ground coffee and sugar ranges, and 95% of its own brand tea ranges.
The retailer has also converted all of its men's and women's standard crew neck t-shirts to Fairtrade cotton.
Burr added: " As we add to the number of Fairtrade products we stock, we continue to make an increased impact on suppliers from poorer countries."