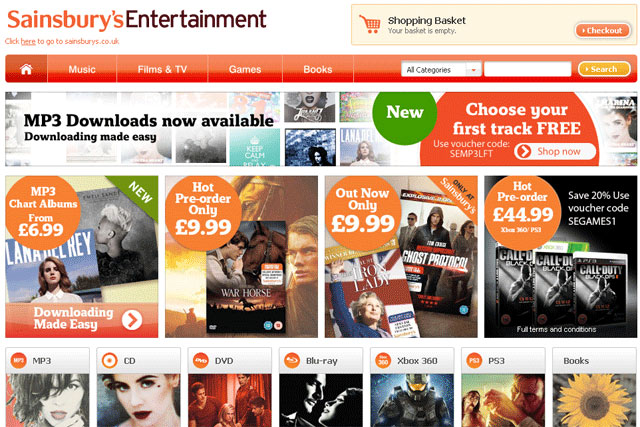 The new service will be hosted on a Sainsbury's entertainment website and provides customers with access to more than 2.3 million music downloads.
Mark Bennett, head of online entertainment at Sainsbury's, said: "This is the first step in our expansion to offer digital entertainment alongside our existing range of CDs, games, film and books catalogue."
Sainsbury's created the download service in-house without the help of a third party. This was made possible following its acquisition of Global Media Vault for £1m in October.
Tracks will be available from 89p, chart albums from £6.99 and "Deal of the week" albums will be sold for £4.99.
Sainsbury's will encourage take-up of the service by offering the first download free, while customers will also collect Nectar points when downloading tracks on the service.
A "lowest price" guarantee will be offered on pre-order items, meaning that when an MP3 track or album is purchased and the price drops ahead of or on the release date, the supermarket will refund the difference.
Additional functionality on the website will allow customers to build a playlist and preview tracks.
Peter Selby, music manager at Sainsbury's, said: "Downloading made easy is central to our music offering and we have ensured that the process is as simple as possible for all our customers."
The service was soft-launched on Friday (27 April) and is now being pushed out to customers.
Sainsbury's is not the only supermarket to offer music downloads. Tesco has already launched a service.
Follow Matthew Chapman at @mattchapmanUK