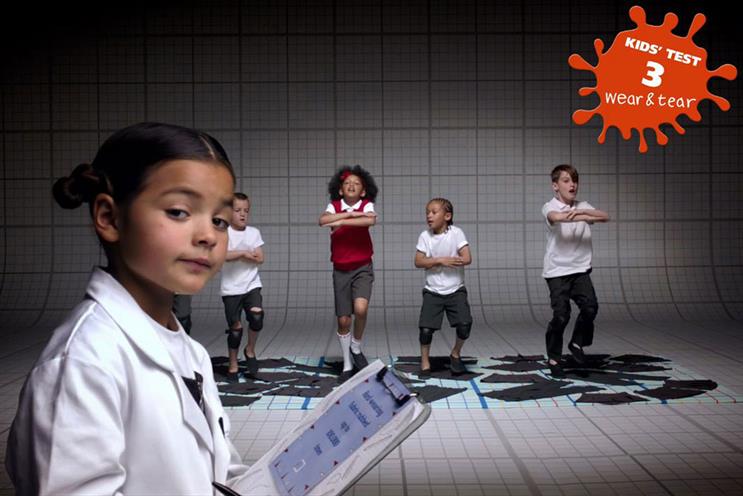 Each of the three ads, which launch today and were created by Abbot Mead Vickers BBDO, feature children trying to find out whether the Sainsbury's Tu clothing line can withstand the wear and tear of daily use.
In the first ad, children are shown throwing water balloons at shirts to assess whether they can withstand 100 washes.
The second features two boys in mini race cars trying to pull apart two cardigans that have been buttoned together, in order to pull-test the buttons.
The third ad shows children street dancing to test if the fabric used in the clothes is hard-wearing and can withstand being rubbed up to 100,000 times.
The creative for the ads was Mark Fairbanks from AMV BDDO, MJ Delaney directed the campaign through Moxie Pictures.
All three 20-second ads launch today across primetime slots including ITV's 'This Morning' and then later during 'Coronation Street'.
They will also appear on Channel 5 during 'Big Brother'. The ads are expected to reach an audience of 13.3 million on the opening day alone.
The "Back Tu school" campaign will then end with a primetime slot during the first episode of 'The X Factor' on 31 August, which is expected to reach an audience of 13 million.
Sainsbury's has also created a an online dance-off video, which launched two weeks ago, featuring the internet sensation B Girl Terra, a six-year-old break-dancer from Wolverhampton who received more than five million hits online for other videos.
The online ad shows children running into the school playground on the first day of term dressed in Sainsbury's 'Back To School' clothing to take part on in a break dancing competition. The school bell then rings and the children dust themselves off with their uniforms still intact, before running off to class.
The creative agency for the online ad, which now has over 35,000 views, was Exposure. Tim Walker directed and produced the ad.
James Brown, the director of Sainsbury's Tu clothing line, said: "Our uniform is rigorously lab-tested so this year we wanted children to get involved, have some fun, and put the uniforms through their paces.
"We're glad to say that after all the action, the uniforms definitely passed the test."
He added that last year, "Back To School" sales increased by 27 per cent on the previous year and said: "We're looking forward to another great year."
Watch the ads below: