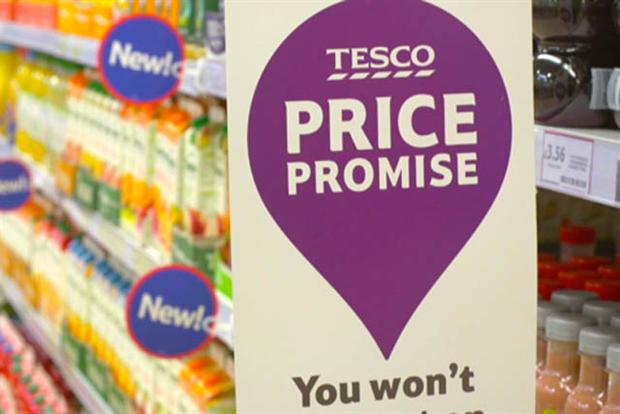 Sainsbury's complained to the ASA about the campaign earlier this year, arguing that the ads that compared the price of a basket of branded and own-label foods were unfair because the comparison "compared apples with pears" and did not take into account factors such as quality, provenance and ethics.
But the watchdog did not uphold Sainsbury's complaint, leading the supermarket to appeal, with independent reviewer Sir Hayden Philips again siding with Tesco.
Sainsbury's did not take "no" for an answer and challenged the independent reviewer's decision in the High Court.
But yesterday, Justice Wilkie of the London High Court ruled that Philips, "did not err in law or act irrationally".
The ruling comes as Sainsbury's chief executive Mike Coupe prepares to announce a turnaround plan for the retailer, as it suffers falling sales and eroded market share, in part due to the growing popularity of discounters Aldi and Lidl.
Coupe is expected to announce the lowering of shareholder dividends to fund price cuts, as well as the reining in of store opening plans.
The ASA, Philips' and now the High Court's rulings come as a blow for Sainsbury's, whose ethical standards, quality and provenance form a crucial aspect of its product differentiation strategy.
When Sainsbury's decided to take the dispute to court, Coupe – who was group commercial director and chief executive officer designate at the time – said: "We do not believe it is fair to compare own-label products of different supermarkets.
"We strongly believe the quality of our own-label products is better than the immediate competition and this is a position we will fight strongly to protect."
Commenting on this week's ruling, a spokesperson for Sainsbury's added: We are disappointed by today's outcome and we will consider all our options. Whilst we respect the court's decision that the independent reviewer acted lawfully when adjudicating our complaint against Tesco, we continue to believe that it is fundamentally misleading for customers if price comparison schemes are inconsistent in taking into account provenance, quality and whether products are Fairtrade or sustainably sourced.
"These values continue to be at the heart of our business and it will be for customers to reach their own verdict on this issue."