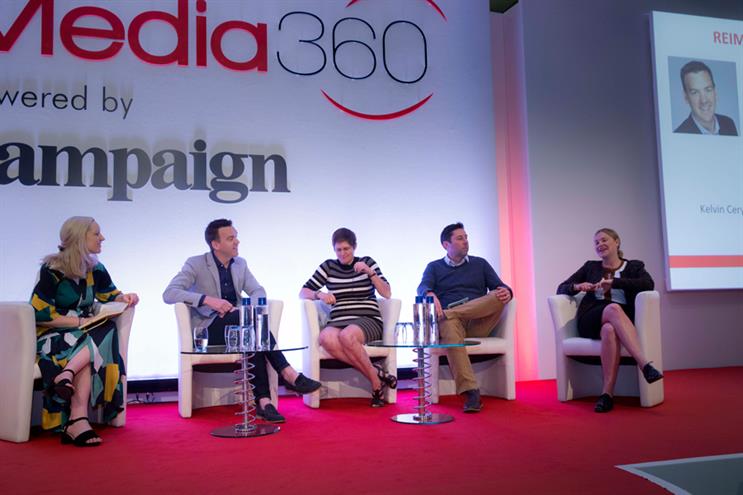 He gave the example of trying to add a pack of strawberries to a shopping basket on Alexa, a process that involves several questions to establish which item the user wants. "At the minute, just clicking a picture is probably more relevant," he said.
The question marketers should ask, Given said, is: "What's the customer problem you're trying to solve, and can technology along with humanity help to solve that?"
Given was on a panel discussion at Media360 alongside Cheryl Calverley, head of marketing at The AA, Alice ter Haar, EU marketing lead at Deliveroo, and Kelvin Cery, senior director, brand partnerships, Branded Entertainment Network. It was hosted by Campaign's trends editor Nicola Kemp.
Deliveroo was "both a product and a driver of the more sophisticated expectations of consumers," ter Haar said – explaining that the business was founded to meet the needs of increasingly time-poor working people who wanted restaurant-quality food that fitted into their schedules, but its success and influence was now forcing other brands to "start reimagining how they reach their consumers".
In response to a question on whether consumers had any interest in interacting with brands, Calverley said it assumed too much about their attitudes. "Consumers are like – they don't even know what a brand is," she said. "They just interact with stuff in life.
"What we do know is the way they perceive the world is triggered by a set of stimuli," she said, which people group together in their minds to form concepts – for example, people associate a large animal, a mane and a loud roar with a lion. Brands work in similar way, she said: they are a set of experiences that consumers associate with each other to form an overall impression.