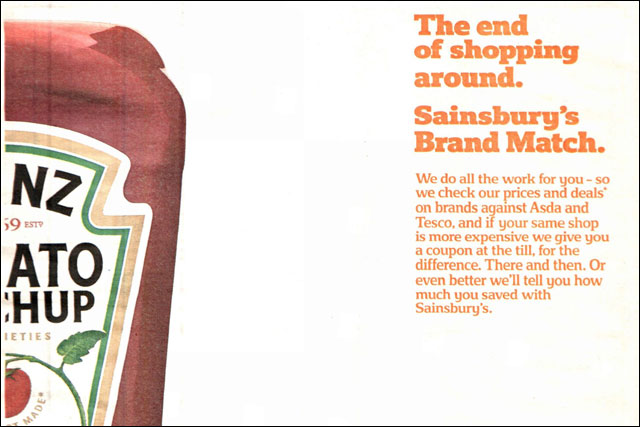 Price reassurance is a key battleground in the supermarket wars and the leading players have frequently taken complaints about rivals' ads to the Advertising Standards Authority (ASA).
Asda took issue with one TV and three press ads Sainsbury's ran in October for its Brand Match scheme, which was rolled out at the time to refund the price difference if a customer's branded goods cost less at Asda or Tesco. The ads were created by Abbot Mead Vickers BBDO.
The ASA rejected four of five points raised by Asda, but looked into its complaint that the ads did not make clear that less than half of all Sainsbury's stores were participating in Brand Match.
It is not clear whether this point was accurate. Sainsbury's responded that the stores participating in the scheme accounted for 70% of its total in-store sales.
The ASA focused more on whether or not the ads carried sufficient information about which stores were participating in the scheme.
It found that the phrase used in the TV ad – "excludes Locals, Centrals and online. Selected stores excluded" - was ambiguous and therefore misleading.
While Sainsbury's pointed out its website carried more information showing that "selected stores excluded" meant that 23 of its "main estate" stores were not taking part (as they did not have the technological capability), the ASA said this should have been clearer in the TV ad.
Asda's other complaints fell on stony ground. They included an objection to the phrase "the end of shopping around" on the grounds it implied there was no value for consumers in shopping at other retailers.
Asda also unsuccessfully complained that the creative did not make clear how consumers could verify the data on which Brand Match claims were made.
An additional two complaints regarded Sainsbury's not linking directly to the terms and conditions of the Brand Match promotion, and claiming its prices were checked against other retailers on the same day.
A Sainsbury's spokesperson said: "To avoid customer disappointment, we state where there are exclusions and a small number of stores where we are unable to offer Brand Match are detailed on our website.
"We believe Brand Match contains no more conditions than similar schemes, and where customers do require further details about the scheme and its conditions, this is easily accessible on our website."
Follow Matthew Chapman at @mattchapmanUK