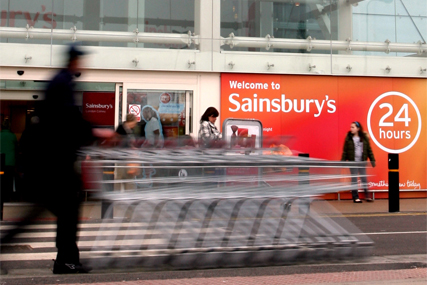 Over the 52 weeks to 20 March, the UK's third largest supermarket chain saw total sales grow 5.1% year-on-year to £21.4bn. Operating profit was up 8.9% to £671m, compared with £616m the previous year.
In the past 12 months, the retailer has added 51 convenience stores and 38 supermarkets to its portfolio, and is on track to increase its new store space by 15% by March 2011. Sainsbury's also saw its online grocery sales increase by around 20%.
Within the past year Sainsbury's has experienced growth in non-food sales as the retailer looked to increase competition with rivals Asda and Tesco. It relaunched its website last July offering 4500 non-food products, which rose to around 8000 by Christmas.
Sainsbury's said that the category was growing at three times the rate of food. The retailer will also be introducing a 'click and collect' service to 10 trial stores from this month.
Last week, Sainsbury's signed up to sponsor the Paralympic Games in 2012 and will use the affiliation alongside its Active Kids scheme. The deal with The London Organising Committee of the Olympic Games (LOCOG) will see Sainsbury's branding, along with one other partner, visible on athletes' bibs.
In February the grocer claimed that it had become the 'world's largest Fairtrade retailer', stating that that one in every four pounds spent on Fairtrade products is spent in Sainsbury's.
The same month Sainsbury's also claimed its Nectar initiative was now the biggest loyalty scheme in the country, having signed up over 16.8m users of the card, more than either of its two main rivals, Tesco Clubcard and Boots Advantage Card.
Earlier this year, Sainsbury's overhauled its online customer magazine as it looked to assert its dominance of the supermarket publication sector in the digital space.