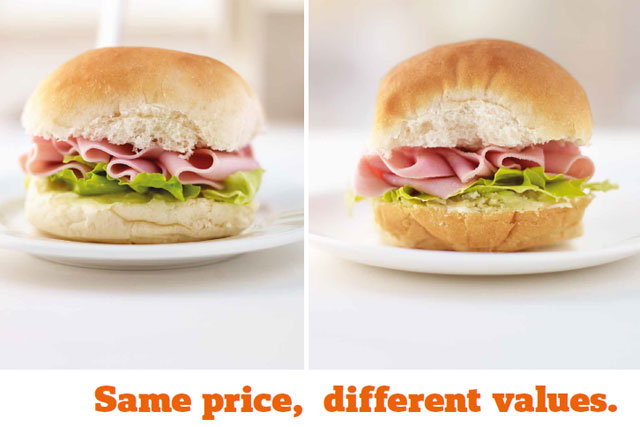 A national press campaign was launched today by Sainsbury's, featuring a tagline stating "Same price, different values" alongside images of its Fairtrade bananas and British-sourced ham.
Creative is designed as a snub to the Advertising Standards Authority and Tesco after the latter avoided a ban on its Price Promise campaign, following Sainsbury's complaint earlier this year. Tesco successfully argued provenance and ethics are not always a fundamental part of a customer's decision-making process.
The Sainsbury's ad features a Fairtrade banana, stating its bananas are "a fair deal for producers, irrespective of market forces" unlike those provided by Tesco, and concludes by saying "they cost exactly the same…that's where the similarity ends".
Mike Coupe, commercial director at Sainsbury's, claimed that the horsemeat scandal made it "absolutely clear that provenance and ethics form a fundamental part of customers' decision-making as they choose what to feed their families".
He added: "Well, it is obvious to us, and you'd have thought it would be obvious to Tesco. They have recently begun an attempt at recasting their ethical image and pushing fresh food credentials in a high-profile marketing campaign which encourages us to 'love every mouthful'.
"But there's a basic contradiction between this advertising and the way they're operating their Price Promise".