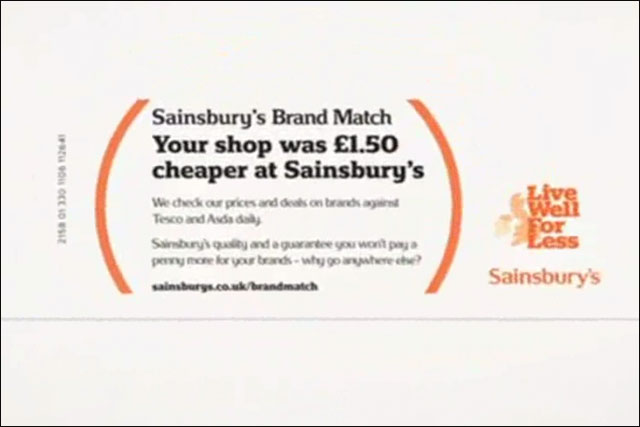 Tesco and some members of the public complained to the Advertising Standards Authority (ASA) about claims that customers would not pay more for brands at Sainsbury's than they did at Asda or Tesco.
The objections were that claims in the TV, digital, press and email campaign were misleading, because the coupon customers received as part of Sainsbury's Brand Match campaign, confirmed they would have paid less for branded goods at Asda and Tesco.
Further complaints were raised because Sainsbury's implied in its advertising that the Brand Match scheme applied to all branded purchases, whereas it was in fact available only to customers who spent £20 or more.
The Brand Match scheme provides customers with a voucher equivalent to the amount they could have saved if they had bought their branded products at Tesco or Asda, but needs to be redeemed with a further purchase made within two weeks.
The ASA ruled that Sainsbury's use of its 'Live Well For Less' strapline in the Brand Match campaign, which was created by Abbott Mead Vickers BBDO, implied branded goods would be cheaper at Sainsbury's.
Sainsbury's defended itself by claiming that it was difficult to see how consumers would have the impression that it was claiming to be cheaper than Asda or Tesco, unless they ignored key parts of the ads.
It added that the use of 'Live Well For Less' was justified because its research found that customers could "live well for less than they thought at Sainsbury's based on customer perception data".
Sainsbury's argued that the Brand Match campaign was "genuine, clear and concise" and had been well received with nearly 100 million coupons issued.
However, the ASA disagreed with Sainsbury's and has banned the campaign in its current form, for misleading customers.
The ad watchdog has warned Sainsbury's that future ads must not imply that consumers would not pay more or would save money by shopping at Sainsbury's, if that was not the case.
Future advertising would need significant conditions of the Brand Match pledge to be clarified in disclaimers, the ASA ruled.