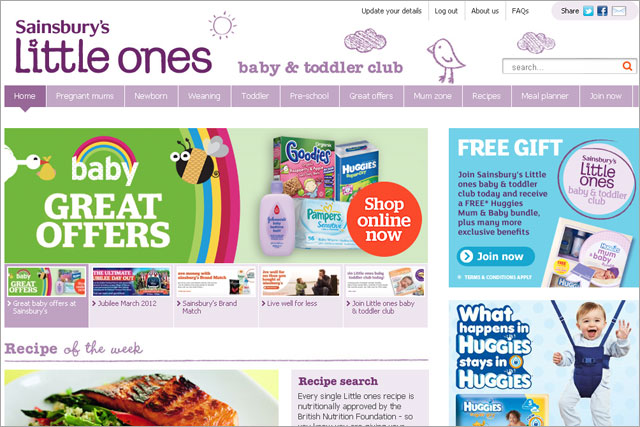 The supermarket's increased focus on Little Ones, which it launched in 2009, comes as rivals are courting mothers with projects including the Asda Mumdex research panel and a partnership between Waitrose and Mumsnet.
Strategic content agency Seven has redesigned the Little Ones site, which has been split into five lifestages – pregnancy, newborn, weaning, toddler and pre-school.
The new Mum Zone area allows users to send in their own tips, stories and Sainsbury's product recommendations.
There is also a more segmented monthly Little Ones email campaign, which involves the club targeting content to the exact stage of pregnancy or child development of its members.
Sainsbury's collects the children's ages from data provided at registration. It asks would-be members to provide their due date as well as details of any children they already have, including their dates of birth.
Email content will include advice, offers, nutritionally approved recipes and parenting tips, along with content from "real mums".
Sainsbury's is hoping to drive sales with its renewed focus on Little Ones by focusing on hundreds of healthy family meal recipes, which are designed to increase shoppers' basket size.
Follow Matthew Chapman at @mattchapmanUK