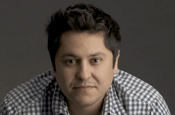 Al-Zaidy replaces Paul Graham, who will officially leave this week to launch Anomaly in the UK. Al-Zaidy will take up his new role at the beginning of March.

Al-Zaidy started his career at Unilever, moving up the ranks to become the global innovation manager on Lynx (Axe). After eight years at Unilever, he shifted across to advertising and joined Mother as a strategy director. At Mother, he was responsible for Boots, Pot Noodle and Eurostar's film project Somers Town.

He joined RKCR/Y&R in March 2008 to take up the newly created role of head of international planning for the global Land Rover and Bacardi accounts. Al-Zaidy will continue to hold onto these responsibilities in his new role.

Richard Exon, the chief executive of RKCR/Y&R, said: "Zaid's client and agency experience brings an exciting and different type of leadership to our digital arm. Having such an innovative and experienced strategist at the heart of Saint gives the business tremendous competitive advantage."

Simon Labbett, the creative director and co-founder of Saint, added: "Zaid is a naturally brilliant thinker, an inspirational person to have around. He's passionate about innovating brands and addressing business problems, something that really excites us."