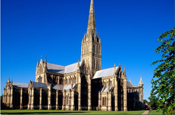 The rebrand will aim to portray the cathedral as a living community rather than just an historic site. It will also reflect its architectural quality and aim to appeal to both to its congregation and tourists.

David Coulthard, marketing director for Salisbury Cathedral, said: We are delighted with the work Last Exit have produced.

"They really understood the challenges facing us and have succeeded in creating an identity which embraces the diverse activities of the cathedral.

Built in 1258, the cathedral holds the bes- preserved of the only four copies of the Magna Carta.