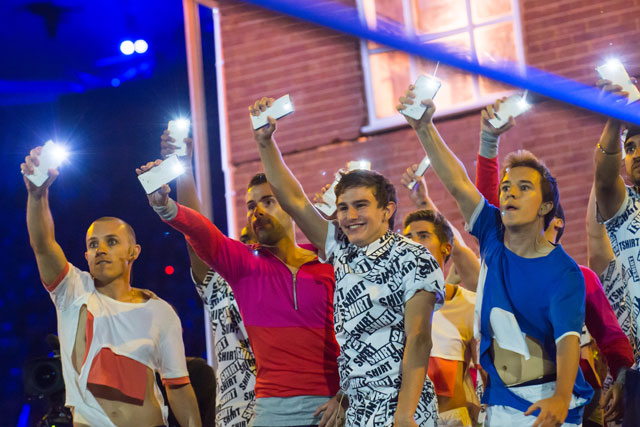 The almost four-hour long show offered little ammunition to those who claim the Games have become over-commercialised, but Samsung could potentially lay claim to the most noticeable product placement of the night.
Samsung is the worldwide Olympic partner for wireless communications equipment and was quick to issue a press release after the ceremony to highlight its devices used in the ceremony.
But there are questions about how obvious Samsung's involvement was to the TV audience, let alone those in the stadium, as while its smartphones featured, the branding on them is not noticeable.
Its Galaxy Note and Galaxy SIII devices were featured in a segment showcasing British music and focusing on the role communications technology plays in modern life. The devices were used by teenagers to update their social media profiles, which appeared in the television feed from the event (and were not branded).
The segment culminated Sir Tim Berners-Lee appearing live on stage, tweeting "this is for everyone" in reference to his invention of the World Wide Web.
However, it appears that Berners-Lee used an Apple iPhone to send the tweet, which is labelled as having been sent from Twitter for iPhone.
This is for everyone #london2012 #oneweb #openingceremony @webfoundation @w3c

— Tim Berners-Lee (@timberners_lee) July 27, 2012
Martin Green, head of ceremonies, said: "The Samsung Galaxy Note and Galaxy S III were featured at a very special point in the show.
"It's fitting that we've been able to use these devices – designed to enhance human communication at an event which connected the whole world."
A Samsung phone was also featured in the routine where Mr Bean played 'Chariots of Fire'. Mr Bean pulled out a Galaxy Ace to take a picture of the stadium.
The same segment of the show also included the family driving a new Mini, a brand owned by Olympic sponsor BMW.
One of the extras also appeared to be playing a Nintendo DS despite Nintendo not being a sponsor.
Brands also played a role during the procession of the athletes around the stadium.
Notably Usain Bolt, the charismatic Olympic 100 metres champion, was wearing a top with a prominent Puma logo while leading the Jamaica delegation.
There were also mentions from the commentators for the brands which had dressed some of the athletes, including Ralph Lauren (US), Armani (Italy) and Next (Team GB).
Dizzee Rascal, a local boy and one of the ambassadors of long-standing Olympic sponsor Coca-Cola's sponsorship of the Torch Relay, performed his 2009 hit 'Bonkers' live.
Follow @mattchapmanuk