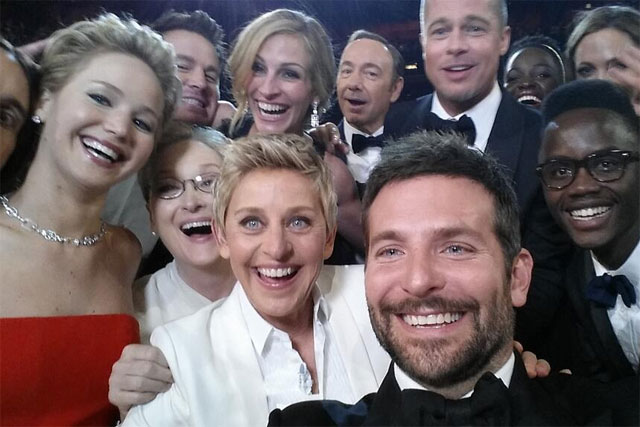 Samsung was a sponsor at the Oscars this year, and, in a statement sent to Techcrunch, the brand said it would be donating $1.5m to two charities of DeGeneres' choice in "honour of this epic moment".
A spokesperson for the brand said: "While we were a sponsor of the Oscars and had an integration with ABC, we were delighted to see Ellen organically incorporate the device into the selfie moment that had everyone talking.
"A great surprise for everyone, she captured something that nobody expected. In honour of this epic moment and of course, the incredible response of nearly 3m re-tweets, we wanted to make a donation to Ellen's charities of choice: St Jude's and The Humane Society of United States.
"Samsung will donate $1.5m to each charity."
After DeGeneres' TV show yesterday, she promoted a further tie up with Samsung, and tweeted: DeGeneres later tweeted: "I gave everyone in my audience a @SamsungMobuleUS Galaxy Note 3. Anyone else want one?" with a link to a competition page.
I gave everyone in my audience a @SamsungMobileUS Galaxy Note 3. Anyone else want one? http://t.co/IEBeuU8MDN

— Ellen DeGeneres (@TheEllenShow) March 3, 2014
The Oscar selfie is the most retweeted tweet of all time, smashing through Obama's "Four more years" tweet from 2012, which held the previous record at 781,826 retweets.
The selfie in question was taken by Bradley Cooper and featured a plethora of Hollywood stars, from DeGeneres herself to Jennifer Lawrence, Meryl Streep, Jared Leto, Brad Pitt, Angelina Jolie, Channing Tatum, Julia Roberts, Kevin Spacey, Lupita Nyong'o and her brother.
If only Bradley's arm was longer. Best photo ever. #oscars pic.twitter.com/C9U5NOtGap

— Ellen DeGeneres (@TheEllenShow) March 3, 2014