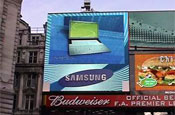 The 'Everybody's Doing It' campaign will go live at 11am today on the 60inch screen with the call to action 'tell all the women you know to visit www.morethantalk.eu'.
The creative will feature Amanda Jones, a 67-year old British woman whose daughter Rebecca died of breast cancer at the age of 33 and Emily Holt, aged 29, who was diagnosed last September.
Ines Van Gennip, head of coporate social responsibility at Samsung Electronics Europe, said: "It's so important that global brands such as Samsung use their influence to give women who advocate breast cancer awareness an even louder voice.
"This isn't a disease that only affects older women, it can touch women of all ages and as many people as possible need to know."
The push will be supported by activity on Facebook, YouTube, Flickr and Twitter.